2016-06-30
Cooperation issues were discussed between Azerbaijan and International Fund for Agricultural Development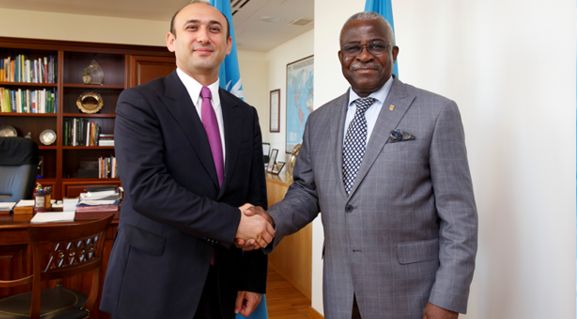 Ambassador Mammad Ahmadzada, Permanent Representative of the Republic of Azerbaijan to the UN Agencies in Rome met with Kanayo Nwanze, President of the International Fund for Agricultural Development (IFAD) on 27 June 2016.
An exchange of views was held during the meeting on the current relations between the Government of Azerbaijan and IFAD and the projects implemented in this framework.
Azerbaijani diplomat spoke about the economic potential of the country, the priority role of agricultural sector in diversification of the economy and in increasing non-oil exports, as well as the achievements in the field of agriculture and stressed the importance of international cooperation in this regard.
IFAD President recalled with contentment his visit to Azerbaijan to attend the Governing Council of the Islamic Development Bank in 2010, and shared his impressions about our country. He appreciated the attention being paid to agriculture in Azerbaijan to ensure sustainable economic growth and stated the interest of the Fund in further expanding cooperation with Azerbaijan.