2016-06-14
Rome hosts 4th meeting of Azerbaijani-Italian Intergovernmental Commission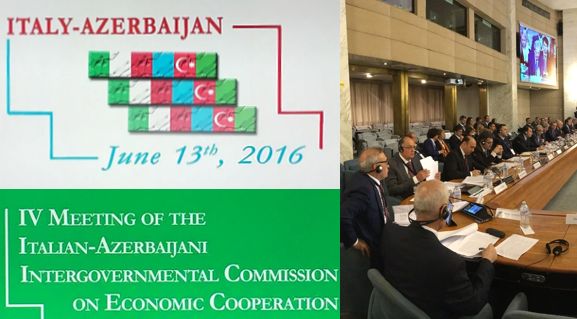 http://azertag.az/en/xeber/961260
The 4th Session of the Intergovernmental Commission on Economic Cooperation between Italy and Azerbaijan has been held in Rome.
The opening address by Foreign Minister Paolo Gentiloni was followed by a plenary session co-chaired by the Undersecretary of State for Foreign Affairs, Benedetto Della Vedova, and by Azerbaijan's Energy Minister, Natig Aliyev. Cabinet Undersecretary, Claudio de Vincentia also attended the event.
The Intergovernmental Commission meeting focused on boosting economic and commercial relations, especially in the sectors of energy, the agro-food industry and infrastructure, with the aim of singling out sectors with a growth potential in order to further strengthen the two Countries' already sturdy bilateral economic relations. Italy has long been Azerbaijan's leading importing country. Testifying to the importance of Azerbaijan as Italy's trade partner, the Intergovernmental Commission also brought together the largest Italian companies that hold interests in the country.
Addressing the event Paolo Gentiloni stressed Azerbaijan`s strategic position as well as its economic potential. The Foreign Minister highlighted developing relations between the two countries across the last years. The Minister emphasized the significance of the Trans-Adriatic pipeline project in strengthening Azerbaijan-Italian partnership. Paolo Gentiloni underlined relations between the two countries in cultural field emphasized the care of the Heydar Aliyev Foundation to the relevant sphere. On re-establishing the peace and stability in the Caucasus the FM said his country supported the efforts of Germany as the chairing the OSCE in settlement of the Armenia-Azerbaijan, Nagorno-Karabakh conflict.
Natig Aliyev touched upon the current state of relations between the two countries. The Minister highlighted Azerbaijan`s economic potential.
The afternoon program continued with the Italy-Azerbaijan Business Forum, a debate organized in partnership with ICE – Agenzia on the perspectives of strengthening industrial and trade relations.
The opening remarks was made by Undersecretary of State for Foreign Affairs, Benedetto Della Vedova and by Azerbaijan's Energy Minister, Natig Aliyev, while the closing remarks was made by the Director General for Cultural and Economic Promotion and Innovation, Vincenzo De Luca.
The plenary was followed by a session of B2B meetings between the entrepreneurs of the two countries.